Our Products
Pharmaceutical Injection
We are engaged in offering Pharmaceutical Products which are customized as per the specifications of our esteemed clients. Our team is well versed with the latest technology emerging in the field of medical science. Having wide experience in our field we thoroughly understand the basic requirements of our clients. Our unit conducts several quality checks at each stage of production.
Gemcitabine Injection 200 mg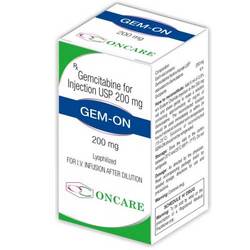 Indications:
What is GEM-ON and how does it work ?
GEM-ON is a chemotherapy drug that is used to treat certain types of cancer, including advanced recurrent ovarian cancer, first-line advanced non- small cell lung cancer, first-line metastatic breast cancer, and first-line advanced pancreatic cancer. GEM-ON works by interfering with the process by which cells divide and repair themselves, thereby preventing the further growth of cancer cells and ultimately resulting in cell death.
How is GEM-ON given?
GEM-ON is given through a intravenous route, over about 30 minutes but total treatment time may take longer if gives other drugs or fluids at the same time. The patient will generally receive GEM-ON once a week for two or three weeks in a row, followed by a week without treatment. This constitutes one "treatment cycle." The number of cycles patient receive will also depend on patient individual treatment plan