Our Products
Pharmaceutical Tablets
We are engaged in offering Pharmaceutical Products which are customized as per the specifications of our esteemed clients. Our team is well versed with the latest technology emerging in the field of medical science. Having wide experience in our field we thoroughly understand the basic requirements of our clients. Our unit conducts several quality checks at each stage of production.
Methotrexate 2.5 mg/5mg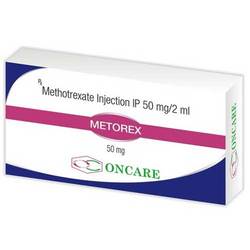 Indications:
What is METOREX and how does it work ?
Methotrexate is classified as an antimetabolite drug which means it is capable of blocking the metabolism of cells. (Metabolism consists of the production and destruction of important components of the cell as well as the production of energy for use by the cell.) As a result of this effect, it has been found helpful in treating certain diseases associated with abnormally rapid cell growth, such as cancer of the breast and psoriasis. Recently, methotrexate has been shown to be effective in inducing miscarriage, for example in patients with ectopic pregnancy. This effect of methotrexate is attributed to its action of killing the rapidly growing cells of the placenta. It has also been found very helpful in treating rheumatoid arthritis, although its mechanism of action in this illness is not known. It seems to work, in part, by altering immunity, which may play a role in causing rheumatoid arthritis.
Cancer drugs such as methotrexate tablets (2.5mg) are safe and effective medication. These tablets are anti-metabolite and help to slow the growth of cancer cells and abnormal skin cells. Our methotrexate tablets are safe to consume and are in high demand in pharmaceuticals owing to its efficiency in treating.
How is METOREX given?
It can be taken orally or administered by injection (subcutaneous, intramuscular, intravenous or intrathecal). Although daily preparations are occasionally used, most patients take weekly doses,[citation needed] which decreases the risk of certain side-effects.
PREPARATIONS: Injectable: 25mg/ml. Tablet: 2.5 & 5 mg
DOSING: Methotrexate may be taken with or without food. For rheumatoid arthritis and psoriasis, the dose of methotrexate is given WEEKLY, by injection or orally. For psoriasis, the starting oral dose is a single 7.5 mg dose weekly or 2.5 mg every 12 hours for three doses, once weekly.